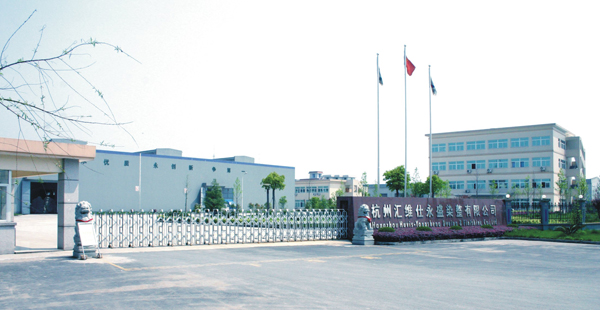 About Yongsheng Group:
Hangzhou Yongsheng Group Co. Ltd. (YONGSHENG) is a leading textile company in China. Through over twenty years of strenuous work, Hangzhou Yongsheng Group has a team of indispensable force in the construction of Zhejiang's nongovernmental economy. In the spirit of "internationalized and preeminence", Yongsheng Group, from the original sales agent, has become a modern enterprise of six business scopes, covering import and export of chemical fibre, weaving, dyeing and finishing of textile products, garment, research and development of digital technology, capital investment and operation. It has built up continuously-developing commercial and trading relationship with domestic and overseas customers, in the principle of mutual benefit and sincere cooperation.
Now Yongsheng Group has eight subsidiaries: Hangzhou Yongsheng Textile Co., Ltd., specializes in producing and selling various chemical fabric. Certified by ISO9001:2000 Quality Management System Certificate in 2002, and equipped with 200 sets air-jet weaving machines, water-jet weaving machines and rapier weaving machines, Hangzhou Yongsheng Textile Co., Ltd. produces 2 million meters top quality products.
Hangzhou Xiaoshan Yongsheng Foreign Trade Co., Ltd. independently deals in the import and export of chemical fibre, productive material, textile fabric and slopwork. It also professionally deputize the transaction of import and export of set equipment, electromechanical products, hardware and mineral products, etc.
Zhejiang Youshi Garment Co., Ltd. processes the advanced processing equipment of slopwork. It focus on workwear garment , which are exported to Japan, Western Europe, North America, and are well commended by customers, enjoying a promising market prospect.
Hangzhou Huvis Yongsheng Dyeing & Finishing Co., Ltd. is set up jointly with Korean Huvis Corp. (formal name is SK Chemical, a subsidiary of SK Group, a Fortune Top 500 Company in the world). It is a dyeing and finishing factory specializing in suede and other differential fiber fabric, which ranks leading position in domestic printing and dyeing industry. Its dyeing capacity is 2.5million meters each month.
Hangzhou Yongsheng haeil differential fabric Co., Ltd. is another successful model through cooperation with Korean corporations. It specializes in producing differential chemical fibre containing high technique. The establishment of this company patches up the chemical fibre industry chain of Yongsheng Group, achieving one line production of "differential chemical fibre weaving-printing and dyeing of high quality differential fabric-garment".
Nantong Yongsheng Fiber New Material Co.,Ltd. is a chemical fiber spinning manufacturer which is focus on developing and producing high tech and new textile material with the annual capacity of 20,000 T high tech fiber.
| | | | |
| --- | --- | --- | --- |
| | | | |
| SPINNING | WEAVING | DYEING | SEWING |
Copyright © 2012~2015 SEGURMAX TECHNICAL TEXTILE CO.,LTD. All rights reserved. Email:
info@segurmax.cn