Fire fighting suit Specifications
four layers Aramid fire fighter suits, meta aramid/para aramid/antistatic outshell, moisture barrier , thermal barrier and inner lining barrier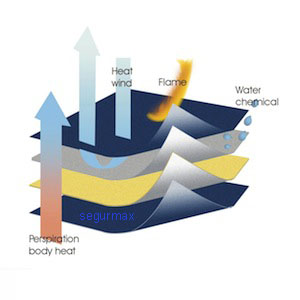 Materials & Features of Aramid fire fighter suits:
Made of four layers aramid blended anti-tearing ripstop fabric of meta aramid and para aramid, moisture barrier, thermal barrier quilted onto aramid-FR viscose face cloth. The moisture barrier effectively stops water but let through moisture, making the suit breathable and comfortable. The thermal barrier gives extra flame and thermal protection. Last pockets to ensure carry capacity; specially designed front storm plate, cuffs and legs are installed with inner cuffs to stop fire incursion; integrated shoulder and sleeves, and the patched knees make the suit more flexible and durable; Nomex sewing thread and quality imported retro reflective trim to enhance wearer visibility. This model has been popular with professional firefighters for its reliable performance, light weight and medium to lower range in price.
Type: Coat and pull-on-strap trousers.
Applications: Structural fire sites, road rescue, wildland and forest fire fighting, etc.
Size: Both European and Asian sizes available, or made to custom size.
Colors: Navy Blue
Weight: 2.5 - 3KG.
Standards: GA10-2002 EN469
The fine fibers are used to help produce felts with low weight per unit area and high inflow velocities for improved filtration efficiency and is a product of choice in a wide range of high-temperature filtration applications.These filter bags help permit facilities to operate at higher temperatures, significantly improving capacity, and help to lower power costs and eliminate condensation.
Products:
| | | |
| --- | --- | --- |
| | | |
| Fire Fighting Suit | Fire Fighting hood | Fire Fighiting glove |
Copyright © 2012~2015 SEGURMAX TECHNICAL TEXTILE CO.,LTD. All rights reserved. Email:
info@segurmax.cn