NORMAL T/C FABRIC
For Protective PPE Workwear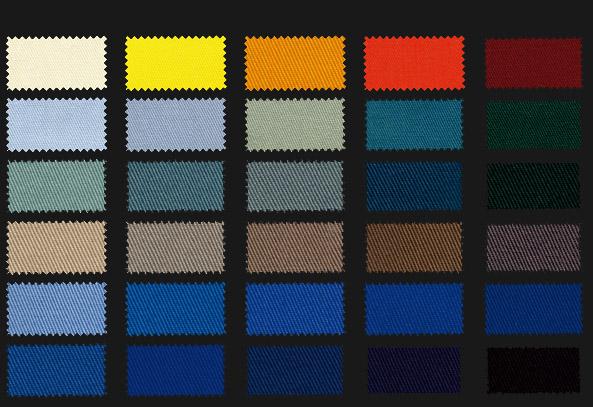 ▲ Industry Washing According to EN 15797
▲ High Color fastness
▲ Most Item Stock Base
▲ No MOQ for Basic Item
Material Choice:
▲ 100% Cotton
More comfortable. But high cost.
▲ CVC Cotton/Polyester
More comforable and durable. With more than 50% cotton the fabric will be more conforatble and around 40% polyester will let the fabric strength and not easy to crease.
▲ T/C 65/35 or 80/20 fabric
More durable and economic and iron free. This fabric is widely used as workwear.
Finishing:
Flame Retardant
Water & oil repellant
Easy Care
Fabric Spec:
| | | | | | |
| --- | --- | --- | --- | --- | --- |
| Fabric | Composition | Yarn | Density | Width | Weight |
| T/C TWILL | 65%POLY 35%CTN | 21*21 | 124*69 | 58/60" | 230 |
| T/C TWILL | 80%POLY 20%CTN | 21*21 | 124*69 | 58/60" | 210 |
| T/C TWILL | 65%POLY 35%CTN | 42/2*21 | 124*69 | 58/60" | 235 |
| T/C TWILL | 80%POLY 20%CTN | 42/2*21 | 124*69 | 58/60" | 235 |
| T/C TWILL | 65%POLY 35%CTN | 20*16 | 128*60 | 58/60" | 238 |
| T/C TWILL | 80%POLY 20%CTN | 20*16 | 128*60 | 58/60" | 238 |
| T/C TWILL | 80%POLY 20%CTN | 21*21 | 108*58 | 58/60" | 185 |
| T/C TWILL | 65%POLY 35%CTN | 45*45 | 140*76 | 58/60" | 112 |
| T/C TWILL | 65%POLY 35%CTN | 32*32 | 130*70 | 58/60" | 160 |
| T/C PLAIN | 65%POLY 35%CTN | 45*45 | 133*72 | 58/60" | 105 |
| T/C PLAIN | 65%POLY 35%CTN | 45*45 | 133*94 | 58/60" | 117 |
| T/C PLAIN | 80%POLY 20%CTN | 45*45 | 110*76 | 58/60" | 96 |
| T/C TWILL | 60%CTN 40%POLY | 21*21 | 128*60 | 58/60" | 220 |
| T/C TWILL | 60%CTN 40%POLY | 32*32 | 130*70 | 58/60" | 160 |
| T/C PLAIN | 60%CTN 40%POLY | 45*45 | 133*72 | 58/60" | 105 |
| TC CANVAS | 80%POLY 20%CTN | 21+21*10 | 72*40 | 58/60" | 260 |
| T/C PLAIN | 65%POLY 35%CTN | 21*21 | 100*55 | 58/60" | 188 |
| T/C PLAIN | 65%POLY 35%CTN | 21*21 | 88*64 | 58/60" | 180 |
| T/C PLAIN | 80%POLY 20%CTN | 21*21 | 96*55 | 58/60" | 175 |
| Cotton Canvas | 100%COTTON | 21/2*10 | 72*40 | 58/60" | 256 |
| Cotton TWILL | 100%COTTON | 20*16 | 128*60 | 58/60" | 238 |
| Cotton TWILL | 100%COTTON | 16*12 | 108*56 | 58/60" | 278 |
| Cotton TWILL | 100%COTTON | 20*20 | 108*58 | 58/60" | 185 |
| Cotton TWILL | 100%COTTON | 32*32 | 130*70 | 58/60" | 160 |
| Cotton plain | 100%COTTON | 20*20 | 100*50 | 58/60" | 175 |
| Cotton poplin | 100%COTTON | 40*40 | 133*72 | 58/60" | 120 |
| TC TWILL antistatic | 65%POLY 35%CTN | 32/2*32/2 | 100*55 | 58/60" | 240 |
| TC TWILL antistatic | 65%POLY 35%CTN | 20*16 | 128*60 | 58/60" | 230 |
| TC TWILL antistatic | 65%POLY 35%CTN | 32*32 | 130*70 | 58/60" | 158 |
STOCK BASE
Copyright © 2012~2015 SEGURMAX TECHNICAL TEXTILE CO.,LTD. All rights reserved. Email:
info@segurmax.cn